Summary
Actinium is a small company, but has excellent deals with well-known research institutes.
Its two products in radioimmunotherapy have both shown considerable promise.
If the promise is delivered, then my conservative estimate gives considerable upside.
ATNM has dilution and stock promotion issues.
Actinium (NYSEMKT:ATNM) is a company with a promising science, but, because of mismanagement of its marketing efforts, the stock is undervalued right now. The mismanagement was due to paying for low-grade promotion campaigns, and doing back-to-back secondary offerings. Despite all that, the company has significant upside in its association with 2 of the top research institutions in the US, an Orphan Drug designation, investment from the likes of Dr. Phillip Frost, and just good science. Investors should be very careful however; this stock is highly speculative because of the mismanagement issues surrounding it.
Stock Promotion
I will begin with the stock promotion issue. Sometime around February last year, Actinium was alleged to have paid $60,000 to one of those cheap penny stock promotion rags that litter the Internet, for a one-week gala promotion campaign. On Feb. 18, 2014, this press release sponsored by smallcapstreet.com appeared on PRNEWSWIRE:
Biotech Breakthroughs Brings Powerful Cancer Testing and Drugs to Market

Actinium Pharmaceuticals, Inc. has two drugs in testing that are designed to treat blood borne cancers. Both drugs have been tested on approximately 300 patients in Phase I and Phase II Trials. The company plans to move the drugs into clinical trials in the next 12 to 18 months.

The vast size of the recurrent and metastatic cancer market combined with the inefficiencies of current tests and treatments makes it an enviable area for biotech companies to target.
In February 2014, the stock bounced from around $6 to over $12, and stayed there for all of 3 months, after which it went back to where it was.
Again this year, around May-June, the same company got another $20,000 for a 3-day campaign. In shameful English, this campaign poster goes on to list the various achievements of ATNM, including Dr. Phillip Frost's investment, its Orphan Drug designation, and other highlights.
The stock again bounced up from $2 to $4 for a month, and relapsed thereafter.
Now, there are two kinds of promotions happening in the market. One is a pump and dump scheme. In this set up, a company like ATNM needn't pay a rag like Small Cap Street to promote it. The rag would do it themselves, for their own interest. Behind all those cheap websites and silly names sits a guy, sometimes American, sometimes not, somewhere in another country, who puts in a large amount of money in buying up the stock before the promotion hits the market. Then they pay $500 to a business PRNEWSWIRE to distribute a promotion material. Initially, this promotion is done on the sly, couching together a number of legit companies in a single press release. That release is then distributed to legitimate websites like Bloomberg, thestreet.com, Reuters and others. Immediately after, they again pay another $500 to PRNEWSWIRE, but this time with a focus press release on the target stock. They usually make false claims about the stock's potential.
Impossibly gullible investors then buy the stock, pushing its price up, when our guy in Thailand dumps it, recovering his $1,000 and then some.
That's one kind of promotion.
The other kind of promotion is what ATNM has done. It has paid some cheap outfit to write a couple press releases for it in poor English, obviously written by a non-native speaker of English. What they have written comes right from company material, that is to say, verifiable material, all of which is probably true. For example, try finding a single false statement in the promotions above. It does have an Orphan Drug designation, I checked; it does have FHCRC and MSKCC on board, I checked; it also does have Dr. Phillip Frost investing $5 million in it, I also checked.
So, why even do a promotion like that using a cheap outfit that reduces your credibility and makes regular, intelligent investors' fraud antennae go all the way up?
Sheer, utter, mismanagement is what it is.
Some people probably don't understand that to have guys like those at FHCRC on board is all the promotion they need. A sober company press release highlighting these happenings is all the promotion they need. Or maybe they don't have anybody on board who can write a proper press release, so they have to hire a rag to do it for them.
Dilution
After the February 2014 promotion, the stock rose to over $12 by June 2014. However, there were no insider sales during this period. In March though, the company filed a Form S-3 with the U.S. Securities & Exchange Commission to offer, issue and sell up to $200 million of its common stock, preferred stock, warrants and/or units. In March, the company also uplisted its shares from the OTC market to the NYSEMKT. The stock promotion therefore was only done to possibly raise awareness about the company ahead of the uplisting. The company did capitalize on the bump up in price post the February PR article. After filing for S-3 in March, the company announced a $12.5 million secondary offering in June, 2014. Interestingly, the offering was priced at well below the stock's market price.
The company priced the offering of 1,670,000 shares at $7.50 per share. Before the offering was announced, ATNM shares were trading at above $10. Following the pricing of the offering, ATNM shares went on a downward trajectory in the following months. By the start of this year, the stock slipped below $5. This was surprising as there was no negative news release in the June-December period, and in fact, the company even received Orphan Drug designation from the FDA for Actimab-A in the treatment of newly diagnosed AML in elderly patients. The stock was hit further by another dilutive offering in February. This offering of 4,444,444 shares and warrants to purchase an aggregate 3,333,333 shares of ATNM common stock at a combined price of $4.50 per share. The warrants can be exercised over a period of 4 years following the issuance at an exercise price of $6.50 per share. By May, the stock fell to $2.50. This is around the time the company started a 3-day promotion campaign. This boosted the price to well above $3 but the stock fell again as the company announced a registered direct offering of its shares.
The real problem with ATNM is that it has announced a number of dilutive offerings in the past year. And this is keeping new investors away despite the promising science. But at $2.11, I believe there is value in ATNM shares. Even if the share count is increased to 60 million, which is a 60% increase, ATNM's fair value based just on the potential of Iomab-B in the U.S. alone would be $2.80.
My job here is simple. The stock is trading at very low levels. My job is to check the science, check the people and organizations associated with the company, see if legitimate research institutes like FHCRC and MSKCC mention the company in peer reviewed journals on articles written by their scientists, and generally to figure out the science. If they do, I can then evaluate the science based on the market and the drug's potential. As for the promotion and other scandalous behavior, I will let you make a judgment call.
Overview
Actinium is developing two radioimmunotherapy (RIT) drugs based on its APIT drug delivery platform. Iomab-B is being developed for bone marrow conditioning for hematopoietic stem cell transplantation (HSCT) in relapsed and refractory AML patients age of 55 or older. The company is currently preparing for Phase III trial with Iomab-B. Its other product is Actimab-A, an antibody-drug construct containing iodine-131 used in myeloconditioning for HSCT in various indications. Actimab-A consists of mAb lintuzumab and alpha-emitting radioisotope actinium-225 (Ac-225). In November 2014, the FDA granted Orphan Drug designation for Actimab-A.
ATNM is collaborating with Fred Hutchinson Cancer Research Center (FHCRC) and Memorial Sloan Kettering Cancer Center (MSKCC) on its various programs. It also has IP collaboration with AbbVie (NYSE:ABBV). FHCRC has deep expertise in bone marrow transplantation research, and has Dr. E. Donnall Thomas who received the 1990 Nobel Prize in physiology/medicine for work in this area.
Iomab-B has similarities with Bexxar, a failed RIT from GSK (NYSE:GSK), in terms of ingredients. However, Bexxar had three issues - safety and efficacy, supply, and insurance. As we will see later, Iomab-B doesn't have at least the first 2 issues, and because of that, may not have an issue with coverage either. The article by Erik Neelsen discusses this thoroughly.
The APIT Platform
ATNM's Alpha Particle Immunotherapy (APIT) platform is claimed to be a highly potent and selective form of targeted radiotherapy. The idea is to take a cancer-cell binding mAb, attach a short range, powerful radioisotope to it, and then aim it at the cancer. The mAb binds to the cancer cells only, the radioisotope is powerful but short range, so both together create a condition of specificity.
Research for this was first developed at FHCRC, as can be seen from the following excerpts from the Blood Journal:
High dose chemoradiotherapy with hematopoietic cell transplantation (HCT) is potentially curative for patients who have failed conventional chemotherapy, however, HCT produces a 5-year survival rate of only 20-50% in relapsed hematologic malignancies as a result of treatment-related mortality and disease recurrence. Prior studies have shown that increasing the dose of total body irradiation (TBI) in transplant conditioning regimens significantly reduces the relapse rate, but increases treatment-related toxicity, nullifying the advantage of the lower relapse rate.

Chemotherapy and external radiation therapy expose normal and neoplastic cells to identical doses of cytotoxic agents and depend upon the enhanced sensitivity of rapidly dividing cancer cells to achieve preferential killing. Therapeutic efficacy should be markedly enhanced and toxicity diminished if tumoricidal agents can be selectively focused on malignant cells. Therefore, Abs directed against tumor- associated antigens and conjugated to toxins, drugs, or radionuclides have been developed. Radiolabeled antibodies (RAbs) appear particularly attractive for hematologic malignancies because 1) their surface antigens are well delineated, 2) multiple high quality Abs are available, 3) leukemias and lymphomas are exquisitely sensitive to radiation therapy, and 4) human anti-mouse Abs are less likely to form than in solid tumor settings.

We have pioneered the use of myeloablative radioimmunotherapy (RIT) as a component of HCT conditioning regimens for leukemia, lymphoma, and myeloma and documented the safety and efficacy of this approach in curing patients who have failed conventional therapies (P01CA044991). As one example, Drs. Appelbaum, Eary, Pagel and colleagues developed an anti-CD45 radiolabelled conjugate and demonstrated its safely and potential efficacy when used as part of a transplant preparative regimen for patients with acute leukemia (Pagel et al., Blood, 2009).

Actinium Pharmaceuticals Inc., is now collaborating with FHCRC investigators to initiate a phase III multi-center randomized trial formally testing this therapeutic.
The collaboration developed the idea that adding high-energy alpha particles to the mAb would be the most efficient way to target leukemia cells. From high-school physics, alpha particles are high energy helium nuclei that are larger than, and contain much more energy than, beta particles, which have been used in therapy. Actinium-225 or bismuth-213 is used for generating the alpha particles (or rays, same difference, going by quantum physics).
In another Blood Journal article co-authored 5 years later by Dragan Cicic and Dennis Earle of ATNM and including researchers from some of the most prestigious American universities, the idea was further developed. The study, titled "Phase I Trial of Targeted Alpha-Particle Therapy Using Actinium-225 (225Ac)-Lintuzumab (Anti-CD33) in Combination with Low-Dose Cytarabine (LDAC) for Older Patients with Untreated Acute Myeloid Leukemia (AML)" has this to say about the results:
Background: Lintuzumab, a humanized anti-CD33 monoclonal antibody, targets myeloid leukemia cells but has only modest activity in AML. To increase the antibody's potency yet avoid nonspecific cytotoxicity of β-emitting isotopes, 225Ac (t½=10 d), a radiometal that yields 4 α-particles, was conjugated to lintuzumab. A phase I trial showed that 225Ac-lintuzumab is safe at doses ≤ 3 µCi/kg and has anti-leukemic activity across all dose levels studied (Jurcic et al. ASH, 2011). We are conducting a multicenter, phase I dose-escalation trial to determine the maximum tolerated dose (MTD), toxicity, and biological activity of fractionated-dose 225Ac-lintuzumab in combination with LDAC.

Conclusions: Fractionated-dose 225Ac-linutuzmab in combination with LDAC is feasible, safe, and has anti-leukemic activity. Dose escalation continues to define the MTD, with planned doses up to 2 µCi/kg/fraction. Additional patients will be treated at the MTD in the phase II portion of this trial to determine response rate, PFS, and OS.
According to Actinium's recent 10-K:
"APIT has demonstrated extremely high cancer cell kill levels even though AML is not considered particularly radiosensitive and radiotherapy is not used in treating the disease. Based on these inherent isotope traits, the Company and Dr. David Scheinberg, Chairman of the Molecular Pharmacology and Chemistry Program at Memorial Sloan Kettering Cancer Center (MSKCC), ATNM's key scientific collaborator, developed alpha particles as an ideal payload for targeted cancer radiotherapy."
Based on cost and efficacy factors, the company says that Actinium-225 is being used today. It has a favorable half life of 10 days, which provides for better pharmacokinetics.
Another study by Howard Lazarus, a well-known specialist from Case Western, and affiliated to ATNM as a consultant according to this document, says this about the process:
(click to enlarge)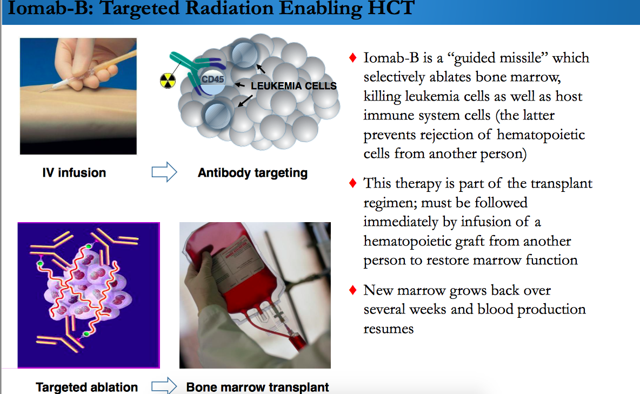 Drugs And Trial Results
Here's how the company's pipeline looks like:
(click to enlarge)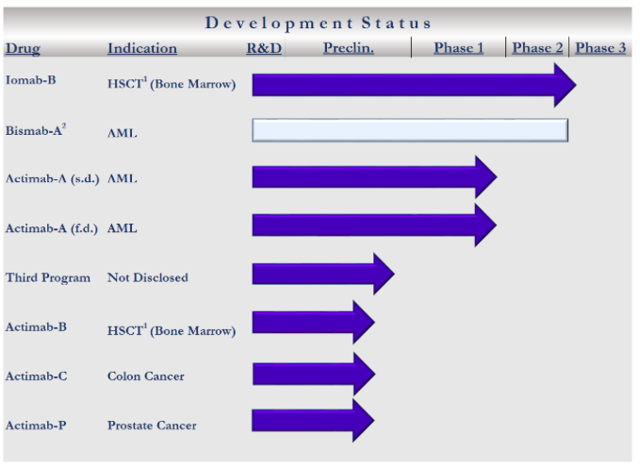 1.HSCT stands for Hematopoietic Stem Cell Transplantation, a procedure in which cells capable of reconstituting normal bone marrow function are transplanted to a patient.

2.ATNM has decided to discontinue development of Bismab-A at this time for supply, logistics and cost reasons. Actimab-A is the second generation drug of Bismab-A.

3.Properties of Actinium 225 are uniquely suited for Antiangiogenesis and API is considering options for further development in that area.

4.Antiangiogenesis therapies starve cancerous tumors by choking off blood supply to them.
In the phase 1/2 results, Iomab-B demonstrated 100% complete remission (CR) in a cohort of 27 patients, with engraftment possible by 28 days. The results, as you can see in the graph below, are undeniably excellent:
(click to enlarge)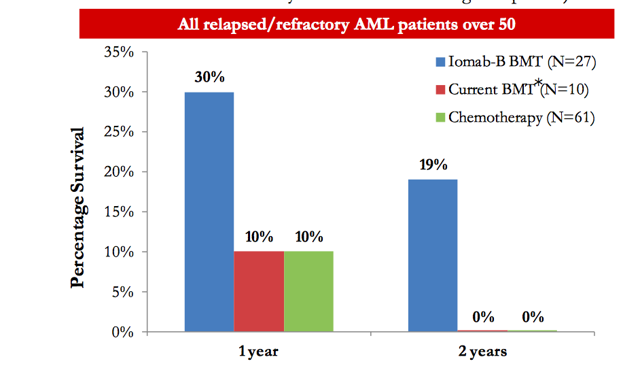 Iomab-B is about to begin pivotal phase 3 in AML HSCT after successfully completing a phase 1/2 trial. In July, ATNM announced that it has submitted a request for pre-IND meeting to the FDA for Iomab-B.
Actimab-A, according to a shareholder letter released this month, is undergoing phase 1/2 trials and has completed the third cohort in an escalating dose trial. According to the company, "Two out of three Actimab-A treated patients achieved complete remission in Cohort 3, with different degrees of hematological recovery (CRI). By comparison, one patient achieved CRI in Cohort 2." They have now launched cohort 4 enrolment.
Actinium plans to take Iomab-B through trials and to the market by itself, and for Actimab-A, it wants to do a proof-of-concept phase 2 trial and look for a partner.
IP Portfolio
No patents are currently covering Iomab-B, but the company is focusing on a proprietary strategy based on trade secret protection and the potential for ODD and data exclusivities. There are patents issued for the platform technology (valid till 2019) and isotope production methods (valid till 2027). In addition, the BC8 antibody, cell-line and related know-how have been exclusively licensed from the Fred Hutchinson Cancer Research Center (FHCRC). Patents related to Actimab-A have been licensed from AbbVie Biotherapeutics. The company has a Product Development and Patent License Agreement with AbbVie under which it secured exclusive rights to specific antibody when conjugated with alpha-emitting radioisotopes. The company will make milestone payments to AbbVie.
ATNM believes that its Iomab-B and Actimab-A address significant unmet need and are blockbuster opportunities. In AML alone, the addressable market for Iomab-B is around $750 million, according to ATNM. Expanded indication could increase the commercial opportunity to more than $4.1 billion.
Valuation
The complete valuation is on my website drkkd.com.
Actinium's near-term commercial opportunity is with Iomab-B in AML. If the company's Phase III trial remains on track, Iomab-B could be launched by 2018. ATNM sees expanded indication for Iomab-B, which will significantly increase the size of Iomab-B's addressable market. However, to value ATNM right now, I am only focusing on the AML market. According to Actinium, the addressable market in AML is worth $750 million. Currently, there is no standard of care in this indication, so ATNM has the potential to capture significant portion of the market.
I have assumed a 3% growth in the treatment market size each year. At peak, I have assumed that the company will capture 75% of the market because of a lack of SoC. I have assumed seven-year exclusivity after approval, considering that ATNM is looking for an ODD status for Iomab-B. I have assumed a mid-2018 launch for Iomab-B. In the first year, the company will have around 30% of the market share, which is reasonable considering that there are no standard of care in this indication. I have assumed a steady increase in market share thereafter, which peaks at 75%. In 2026, as exclusivity period ends, I have assumed a drop in market share to around 15% and calculated the terminal value in 2027.
The discount rate and continued growth rate for Iomab-B are assumed at 15% and 3%, respectively. The probability of approval is 65%, which is the average for drugs entering Phase III trial as per data from Torreya Partners. Finally, I have assumed that ATNM will commercialize Iomab-B on its own in the U.S.
Based on these estimates, I get a fair value of $4.10 per share. ATNM is currently trading at just above $2, so this represents a significant upside from current levels. And remember this is just for the U.S. market. There is a significant opportunity in Europe as well, plus the company will look to expand indication for Iomab-B once it is approved. Then, there is Actimab-A as well.
Then, there is around $0.70 per share in cash on the company's balance sheet. ATNM ended the June quarter with $26.2 million in cash on its balance sheet. The company's burn rate for the first two quarters of the year was around $11 million. If the company continues to burn cash at the same pace, it will need to raise additional funds by the third quarter of 2016. So dilution is a short- to medium-term risk. However, the company has said that it will look for a partner for Actimab, which means there is possibility to obtain some non-dilutive financing for ATNM.