Summary
Geron made two oral presentations and one poster presentation at ASH 2015.
Data showed excellent results in ET patients with various mutations, and some progress in MF patients.
This article discusses that data.
Geron (NASDAQ:GERN) shares traded above $5 for the first time in a long time after the company made a few good presentations at ASH 2015. These presentations were titled:
• Oral presentations:

- Dynamics of Mutations in Patients with ET Treated with Imetelstat (Abstract #57)

- Telomerase Inhibitor Imetelstat Therapy in Refractory Anemia with Ring Sideroblasts with or without Thrombocytosis (Abstract #55)

Poster presentation:

- Activity of the Telomerase Inhibitor GRN163L (Imetelstat) on Acute Myeloblastic Leukemia Blasts Is Enhanced by DNA Methyltransferase Inhibitors Irrespective of TERT Promoter Methylation Status (Abstract #1267) - not discussed in this article.
Elisabeth Oppliger Leibundgut of the Department of Hematology and Clinical Research, University Hospital and University of Bern, was lead author of the first presentation, on ET, or Essential thrombocythaemia, a rare disease characterized by overproduction of platelets by bone marrow cells known as megakaryocytes. The abstract described imetelstat as the first telomerase inhibitor in clinical development - which is, of course, true. Imetelstat works by inhibiting telomerase enzyme activity. In in vitro studies, it has been shown to reduce neoplastic progenitor proliferation. It is selective in that it inhibits neoplastic megakaryotic growth from patients with ET but not from healthy individuals. That selectivity will be useful in reducing toxicity. Below are two descriptions of imetelstat from the oral presentations.
(click to enlarge)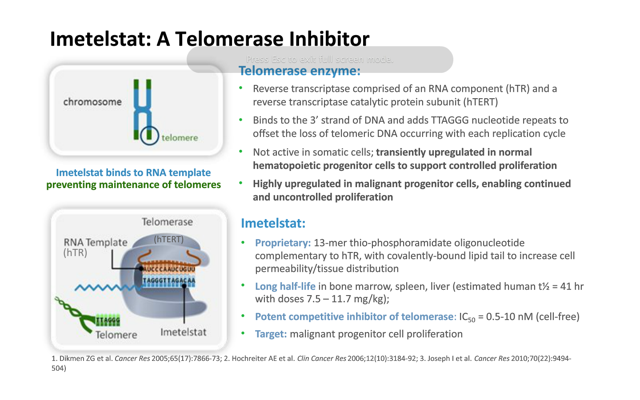 (click to enlarge)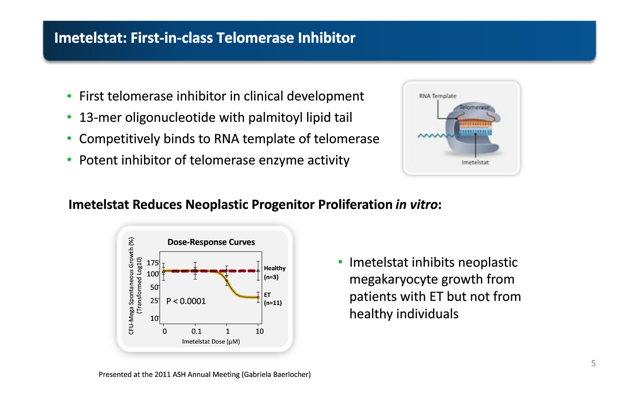 Source: Geron IR
The primary endpoint of the ET study was best overall hematologic RR (CR + PR) within 1st year of treatment. Its secondary endpoints:
duration of hematologic response
molecular response (JAK2 V617F/MPL W515 mt patients)
safety and tolerability
In ASH 2014, previously reported hematologic response was 16 CRs and 2 PRs in n=18. Molecular responses were observed in 7/8 patients with the JAK2 V617F mutation. CALR (calreticulin, responsible for local control of misfolded protein) and MPL (myeloproliferative leukemia protein, CD110) allele burdens were also reduced. These alleles are responsible for abnormal megakaryotic production, which is concomitant with ET.
The current study aimed to assess the dynamics of additional mutations besides JAK2 V617F, CALR and MPL mutations as an additional exploratory endpoint, and to investigate their association with clinical, hematologic and molecular responses in ET patients treated with imetelstat. The clinical significance, so far as I can see, is to add an extra component to the repertoire of imetelstat in ET, and other related diseases in general.
The report described some patient evidence, which I have summarized below:
At least one patient with ASXL1 mutation and advanced disease showed good initial molecular response and CR of 10.7 months. This was patient number 17, F/61, 11 years since initial diagnosis, 3 prior therapies, and patient transformed to MF 7 months after termination of imetelstat treatment.
At least one patient with U2AF1 mutation showed rapid molecular response and CR of 9.7 months. Years since initial diagnosis was 1.3, and patient did not transform to MF post treatment conclusion.
At least one patient with multiple mutations showed CR of 17.6 months. A female aged 67 years, with 20 years post diagnosis, transformed to MF post treatment conclusion. Patient required frequent dosing and became resistant.
A 60-year-old male patient with 3.3 years since diagnosis showed CR of 24+ months and rapid and durable molecular response and good clinical outcome. Patient had JAK2 V617F mutation and no additional mutation. Did not transform to MF.
Similarly, for a 55-year-old female patient with only JAK2 V617F mutation and no additional mutation. Did not transform to MF. CR of 25+ months. Durable molecular response and good clinical outcome.
This is anecdotal evidence at best, what I re-presented here, but with complete data at hand, the study reported that they concluded that driver mutation response did appear to be deeper and more prolonged in patients who had lower additional mutant allele burden. I would add that number of years post diagnosis played a part from the 5 presented cases above. I would speculate that this was because over the years and various therapies, additional mutation burden could have increased over driver mutations, which, as the name suggests, is the key mutation for a particular disease-causing clonal expansion. The study also notes that additional mutant allele burden declines with driver mutant allele burden, so when the latter declines, the former does too. I also note, although only anecdotally, that the two cases described above, with longer duration post-diagnosis, transformed from ET to Myelofibrosis, which is generally a rare occurrence.
The study's conclusions are:
(click to enlarge)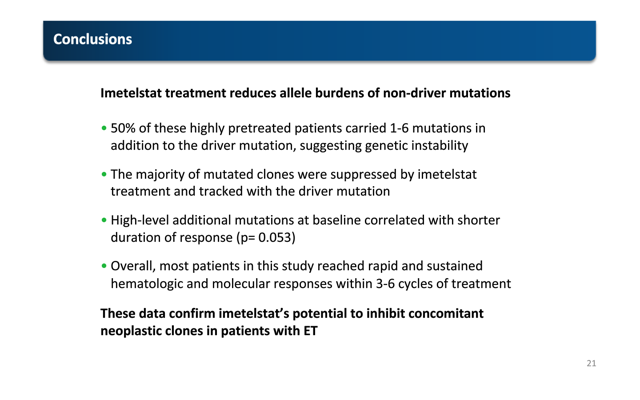 The sentence in bold at the end of this diagram provides the rationale for the study. Previously, we were aware of Imetelstat's prowess in a small set of mutations relevant to ET. Here, that set is extended to include other mutations where inhibitory potency of imetelstat has been demonstrated.
The next oral presentation at ASH was "Telomerase Inhibitor Imetelstat Therapy in Refractory Anemia with Ring Sideroblasts with or without Thrombocytosis" by Ayalew Tefferi and collaborators from Mayo Clinic, Janssen and Geron.
In a previous, pilot study of imetelstat in MF, it was observed that CR was significantly higher in patients with SF3B1 or U2AF1 spliceosome mutations, which are closely associated with refractory anemia with ring sideroblasts (RARS) and refractory anemia with ringed sideroblasts and thrombocytosis (RARS-T). This study explores the potential of imetelstat in this type of refractory (treatment-resistant) anemia. Sideroblasts are typical ring formations of abnormal, prematurely developed red blood cells.
Subsequent to the study, 3 (38%, n=9) patients achieved transfusion-independence (TI) during treatment, defined as not requiring transfusions for at least 8 weeks; 2 had RARS and one RARS-T. A fourth patient achieved reduction in transfusion needs and >50% decrease in palpable spleen size. Two additional patients achieved partial resolution of thrombocytosis and leukocytosis, while one of the 3 CR patients achieved complete resolution. One recorded death was deemed unrelated to imetelstat. No long duration (above 4 weeks) >=grade 3 hematologic toxicities were recorded.
Overall, data presented showed imetelstat was safe and well-tolerated given the disease. SF3B1 mutation was observed in all 3 CR patients and in the patient with spleen response. The study concluded that imetelstat may offer clinical benefit in patients with RARS or RARS-T. As I get a grip on the science being discussed, I note that behind the technical terminology there is suppressed excitement in the disease-modifying capacity of imetelstat.