Summary
Portola went down 9% after CHMP's recommendation of Praxbind, and may go down further.
Praxbind is an antidote for Pradaxa while Portola is developing an antidote for Xarelto and Eliquis.
This is an opportunity to buy PTLA, because my investment thesis in unchanged, but the market is underestimating the stock's potential.
I made a call about Portola (NASDAQ:PTLA) in July because I believed the company was in the right place at the right time. The FXa inhibitor class anticoagulants, consisting of Xarelto, Eliquis, Savaysa and a few others, was the dominant class ($2.9bn) in the $8bn anticoagulant market. But these drugs had a problem; like other classes of anticoagulants like warfarin or Pradaxa, all of them faced million-dollar class action lawsuits because their blood-thinning properties lead to deaths via internal bleeding in a number of cases.
Portola had the only solution to the problem, Andexanet alfa, an antidote to the FXa class inhibitors which would rapidly stop internal bleeding. Andexanet alfa was in the final clinical stages, and PTLA was planning a BLA in late 2015. Moreover, Portola had its own FXa inhibitor which had some advantage over the marketed products. It was longer acting and could be used in the post-hospital scenario. As I said then, Portola's own Betrixaban could be "prescribed out of the hospital for up to 35 days, which is the critical period when patients need an anticoagulant, but do not have any option at present." Other FXa anticoagulants were mostly for hospital use.
Overall, the antidote for other FXa inhibitors, and its own anticoagulant with a broader scope - that was the investment thesis of Portola, and it made very good sense to me in July, and I took a position in the company. The stock was trading at $51 at that time.
On Friday, the stock fell 9% and is now trading at $43, because news came out that the CHMP has recommended for the approval of Boehringer Ingelheim's Praxbind (idarucizumab) as an antidote for Pradaxa.
Pradaxa and anticoagulants: some history
The first anticoagulant was Coumadin from Bristol-Myers Squibb (NYSE:BMY), also known as warfarin, which has existed for almost 100 years but only used since 1954 as an anticoagulant when it was discovered that vitamin K was an antidote.
Surgeons in countries like India routinely used aspirin in pre-surgical settings in TKR (total knee replacement) and THR (total hip replacement) surgery as a moderate anticoagulant. Then, in 2010, Pradaxa was approved as an anticoagulant, soon followed by Xarelto and Eliquis.
Biochemically, Pradaxa is a direct thrombin (factor IIa) inhibitor while Xarelto and Eliquis are Factor Xa inhibitors, or xabans. Factor Xa is upstream to thrombin, which (the latter) is produced by the former's action on prothrombin. So a Pradaxa antidote has no direct relation to a xaban antidote, of which, as far as I am aware, PTLA's antidote is the only successful example. What I mean is, don't expect Praxbind to work as an antidote for Xarelto or Eliquis and destroy Portola's potential market.
Now, Pradaxa has settled for millions of dollars in lawsuits because it caused internal bleeding and death - details in my previous article. Boehringer has long been trying to find an antidote. Meanwhile, Xarelto and Eliquis too became slowly embroiled in lawsuits, although not to the same extent as Pradaxa (yet), and were also looking to work closely with Portola in its development of an FXa inhibitor class antidote.
That story was disrupted - unreasonably, as we shall see - when the CHMP recommended Praxbind for approval.
The Pradaxa Xarelto Eliquis comparison
My Portola story is now based mainly on which drug is better, because Portola has an antidote for the latter two, not for Pradaxa. So let me look at it from a common sense point of view, and then we will discuss the science.
Look at it this way. Pradaxa entered the market in October 2010, and quickly captured a major part of the huge anticoagulant market. A year later, Xarelto came in and in its turn, captured the market from Pradaxa and quickly became the dominant player. Next year, Eliquis came in, and although it didn't start from a position of dominance despite rumors of better efficacy, its sales curve is rising, just like Xarelto's, while Pradaxa's is going down.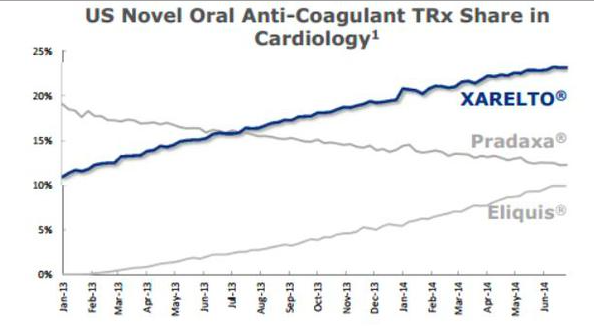 Source: JNJ Presentation
So, when none of the drugs had an antidote, Pradaxa was going down while both Xarelto and Eliquis were going up. In 3-4 months, Pradaxa will have an antidote, so it will get an edge. But that edge will be temporary, because the FXa class will also get its own antidote, leveling the playing field once again. Last time the playing field was level, the above graph resulted - no reason to change that scenario when the playing fields are leveled again. At least, that is the common sense scenario.
Now, as to a scientific comparison asking the question: which drug is more effective - it must be understood that there's no black and white answer to this. In many respects, either Xarelto or Eliquis scores over Pradaxa, which is probably why the above chart occurred in the first place. But Pradaxa most certainly will have advantages in some patients, or it will be advantageous to prescribe it for other reasons. Given that understanding, and the fact that these anticoagulants were never directly compared, here's some tabular data indirectly comparing them all:
(click to enlarge)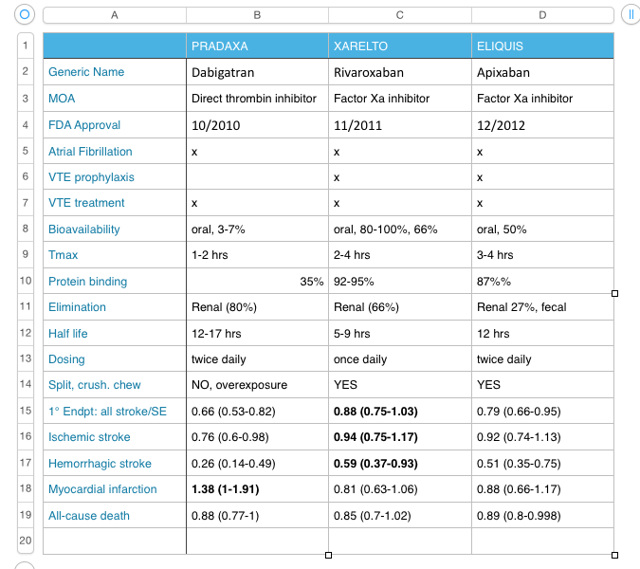 Source: Author research
(click to enlarge)

In the first comparison table, rows 5-7 show the indications for which the three drugs are approved - as you can see, the FXa drugs are approved for AF, VTE prophylaxis and VTE treatment while Pradaxa is approved only for AF. That is probably a significant reason for the rapid market capture by the FXa drugs. All are oral drugs, however, Pradaxa needs larger dosages compared to the others, which can be identified by rows 8 and 10. In terms of elimination, Eliquis has been said to be superior to the other two. Then again, Xarelto is the quicker acting of the drugs; therefore, it can be given only once daily.
As to serious adverse events like ischemic stroke, hemorrhagic stroke and MI, compared to warfarin, hazard ratios are given in rows 15-19. As you can see, each has different rations in different categories, so which drug will be administered will depend on the patient's data. However, all-cause death is more or less the same.
This table does not cover important aspects like drug-drug interactions etc.; prescriptions may depend upon those parameters as well. In effect, this table and the discussion means this: each drug has its pros and cons, and if antidotes come through for all of them, and there isn't considerable variation in antidote efficacy, nothing really changes from how the market had reacted to the drugs when they were launched, as demonstrated in the sales graph above.
So, as you can see, there's nothing that has changed with the Praxbind CHMP as far as my Portola thesis is concerned - except that the market has blindly reacted to the news and, without understanding everything thoroughly, made the stock slump. This is excellent scope for those who understand Portola to buy more of it, and for reducing cost of acquisition. New investors should also find the price point very attractive. In fact, given my original valuation of $75 - which doesn't change at all - this substantial dip is strong alpha for discerning investors. I wouldn't be surprised if there's further dip when Praxbind gets EU approval as well as FDA approval, both probably in January. I would buy at this dip, and again if there's a further dip in January - and wait for Andexanet alfa to be approved to make some profit.
When will Andexanet alfa be approved
That is the critical question in this equation. Praxbind, I believe, will be in the EU market by January 2016 or earlier, and having received Priority review in April 2015 with the FDA, should also be in the US no later than that.
Andexanet alfa is also in the last stages of its clinical development, and looks to be in the market no later than mid-2016. Just 2 weeks ago, its phase 3study with Xarelto concluded, meeting all primary and secondary endpoints, just like its earlier phase 3 study with Eliquis had done. The drug candidatealso has an ODD, so there's that much less competition. It also has a breakthrough designation. As a press release notes:
"The Company expects to submit a Biologics License Application (BLA) for Andexanet alfa to the FDA under an Accelerated Approval pathway at the end of 2015."
So, Pradaxa will get a 6-month head start on Xarelto, if that. Considering the comparison I tabulated above, that's not enough of a head start to worry the Portola investor.
Numbers
As I discussed above, based on the sales trend for all three drugs and considering that the playing field will be level once Andexanet alfa is approved, I don't expect the latest development to have a material impact on PTLA's valuation.
But I have still looked at the worst case scenario to see how much of an impact there is on PTLA's valuation. I had valued PTLA at $75 per share. The fair value for Andexanet alfa was $67.47. I valued Betrixaban at $7.27. The combined value of the two drugs was $75.
Portola notes in its 10-K filing that the market for its antidote would reach $2 billion by 2020 based on the fact that between 23 million and 36 million patients will be treated with Factor Xa inhibitors. Taking the midpoint of this estimate and treatment cost of $3,000 per patient, the Factor Xa market would be worth around $9 billion. In the worst case scenario, I have assumed that Factor Xa inhibitors lose significant market share to Pradaxa and fail to recapture it after the launch of Andexanet alfa in 2016, or 2017 in the worst case scenario. That scenario is looking less likely with Portola's bid for accelerated approval, but here I will go with that.
In my previous model, I had assumed patients treated with Factor Xa inhibitors to be at 22 million in 2017 (the year when Andexanet alfa is expected to be launched in the worst case scenario). In that scenario, if Pradaxa captures 20% of the market from Factor Xa inhibitors next year, and Xarelto and Eliquis fail to recapture the lost market share following the launch of Andexanet alfa, then the number of patients treated with Factor Xa inhibitors will reduce to 16.5 million in 2017. I have assumed a 4% increase in patients treated with Factor Xa inhibitors thereafter. All other assumptions in the model remain the same. In the worst case scenario, Andexanet alfa's valuation comes down to $54 and PTLA's fair value comes down to around $61.30.
Even in the worst case scenario, there is an upside of around 40% from current levels. In fact, there is even an upside from the levels I had opened my position at and the pullback has given me an opportunity to bring down my average cost of acquisition.
The impact on valuation will be material only if Pradaxa is able to capture significant market share from Xarelto and Eliquis. It has only one year to do so, at the most. And there is also a possibility that Pradaxa might actually lose any gains it makes in the next year as we saw earlier when Xarelto and Eliquis were launched.